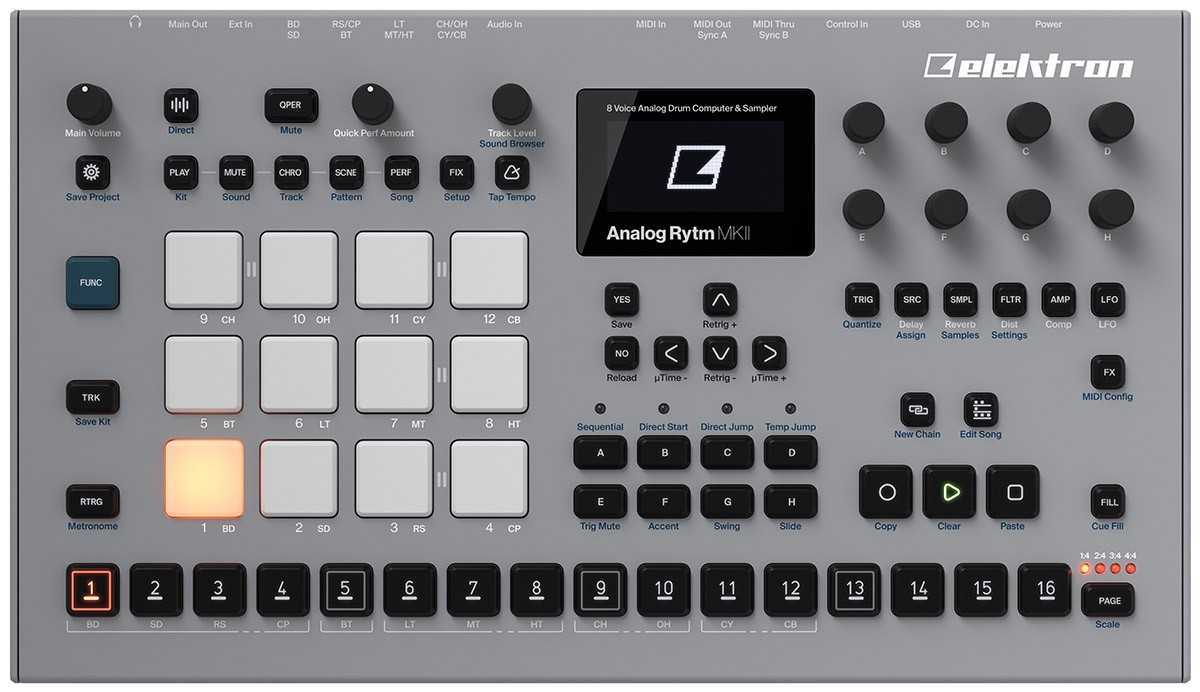 Analog Rytm MKII is an analog/digital beat making dream machine. Everything – from the state of the art aluminium enclosure, via the large pads, to the new quick performance controls – is a direct result of the quest for rhythmical excellence. And now you can sample with it too.
Analog Rytm MKII features several upgrades compared to the MKI version:
For downloading our
archive
Samples you need to
log in
Eight voice analog drum machine & sampler
True analog punch
What really sets the Analog Rytm MKII apart is the analog sound. It has a magic character. The depth of the kick drums, the bite of the snare drums, those cavernous toms, the airy shimmer of the hihats. Fine-tune the sounds to your liking and get working.
Elevated by samples
For ultimate creative versatility you can layer samples on top of the analog drum sounds. Capture your own sounds, or use pre-recorded material, to make your beats as smooth, as rough, as realistic or as fantastic as you'd like. The perfect unity of analog percussion and sampling simply goes beyond.
Maximized playability
When you've got your drums ready, record them to the sequencer and play them back. Do it using the pads, or perform detailed programming on the sequencer steps. Really meticulous or totally spontaneous: it's up to you.
Overbridge for Analog Rytm MKII
Overbridge for Analog Rytm MKII will be free of charge, and become available at a later date.
With Overbridge and Analog Rytm MKII, you essentially get a real analog drum machine inside your computer. The unmatched sound of real analog drums being controlled from a plugin interface offers ultimate convenience and flexibility.
Fully integrate Analog Rytm MKII with DAW environments
Control Analog Rytm MKII with a dedicated VST/AU plugin. (stand-alone operation available)
Use Analog Rytm MKII as a 2 in/2 out sound card (CoreAudio/ASIO/WDM)
Stream all eight internal analog voices, external inputs, and main bus to separate DAW tracks (24 bit/48 kHz)
Route DAW audio to the analog compressor of the Analog Rytm MKII

---